Challenges
After migrating from their legacy Operational System to Oracle EBS, Agilysys faced a significant knowledge challenge where invoice, revenue, and cost information each resided in different data sources.
In order to provide management with reports, users needed to manually consolidate data from different areas. This was time consuming and difficult as analysts from each business unit would come up with different numbers.
Previous information was delivered monthly or quarterly and management had no operational or financial visibility on a daily basis.
Customer, Supplier, Territory, and Sale Reps profitability analysis became a cumbersome and unstructured process.
Solution
KPI Partners built a "Common Enterprise Information Model", leveraging Oracle BI Applications architecture to analyze the billing, cost (recognized/deferred), revenue (recognized/deferred) and margin, across multiple Oracle EBS R12 modules and non-Oracle applications.
Now, Agilysys' dashboards deliver pertinent margin analytics directly to key decision makers on a daily basis thus allowing a focused shift to managing the present rather than simply viewing the past.
The sales team also can leverage up-to-date margin information in their interactions with customers and vendors resulting in increased profitability for the company.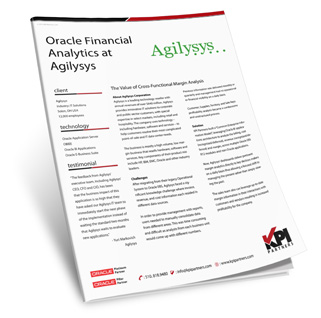 The Value of Cross-Functional Margin Analysis. Agilysis Case Study