Webinar:
Oracle Autonomous Data Warehouse with KPI Cloud Analytics
Date: Tuesday, August 14, 2018
Time: 12 PM ET | 9 AM PT
KPI Cloud Analytics offers robust pre-built analytics for Oracle E-Business Suite, Oracle Cloud ERP, PeopleSoft, JD Edwards, Oracle Cloud HCM, and Salesforce. We have collaborated with the Oracle Database team to integrate this analytical solution with the Oracle Autonomous Data Warehouse Cloud (ADWC). Customers will see immediate cost benefits by deploying our analytical solution with this elastic fully managed data warehouse in the cloud.
Packed with 50+ subject areas, 100+ pre-built dashboards, and powerful ad-hoc capabilities, every line-of-business has a solid starting point to tailor KPI Cloud Analytics for their unique needs.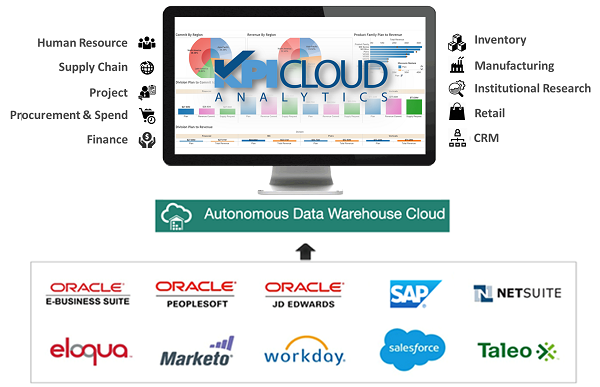 Join us for a unique webcast and Q&A featuring special guests from Oracle and KPI Partners. Our panelists will explore:
The Autonomous Data Warehouse Cloud that scales elastically, delivers fast query performance and requires no database administration reducing overhead and lowering the total cost of ownership
How KPI Cloud Analytics accelerates time to value by providing a comprehensive, pre-built analytics solution revealing hidden patterns and performance drivers leveraging predictive insights powered by machine learning
A live demonstration of KPI Cloud Analytics using the Oracle Autonomous Data Warehouse Cloud
Guests
Kirk Gustafson, Director, Database Cloud Development at Oracle
Aalok Muley, Senior Director, Database Cloud Development at Oracle
Tim Shaulis, Director, Client Services at KPI Partners
Darren Chilton, Director, Client Services at KPI Partners