KPI Leadership Team
The main points of contact into the largest pool of experts in the world.
Kusal is responsible for business development, marketing and strategy at KPI Partners.
Sid is a co-founder and partner at KPI Partners. As CTO, he is responsible for the overall technology direction, strategy, and methodology development of KPI Partners operations.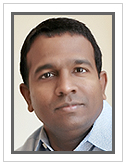 Rajesh is responsible for the financial and human resource operations at KPI.
Prashanth is responsible for KPI's solution offerings, presales, and offshore service delivery.