Challenges
EMC needed to improve the performance of its dashboards in order to gain user acceptance and executive sponsorship. Design principles and a performance methodology needed to be adopted by EMC's team to guide future development efforts.
Solution
KPI implemented its performance tuning methodology which systematically looks at over 10 major causes of slow OBIEE report and dashboard performance. The KPI team worked with the client's OBIEE and database team to prototype solutions that improved dashboard performance dramatically for both initial dashboard load and for drill down.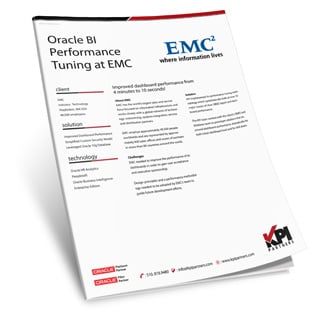 Improved dashboard performance from 4 minutes to 10 seconds! EMC Case Study.