Challenges
St. Jude Medical had various business intelligence initiatives across several business units and multiple BI tools with a high cost of ownership. They faced a complicated architecture and poor integration across enterprise systems. They also had poor flexibility with their existing business intelligence tool.
Solution
St. Jude Medical made Oracle BI their enterprise standard and KPI Partners converted 100 reports from Business Objects to Oracle BI. Oracle BI Publisher was used widely for pixel-perfect reporting. KPI Partners used a blended model of on-site resources and offshore experts.
Value to St. Jude Medical
St. Jude Medical adopted Oracle BI 11g its enterprise standard, working with KPI Partners to convert its Business Objects applications to Oracle Business Intelligence. Because end users can now easily design report layouts directly in a web browser or using familiar desktop tools, it dramatically reduced the time and cost needed to develop and maintain reports. St. Jude medical achieved significant cost savings and also established a BI Center of Excellence with this project.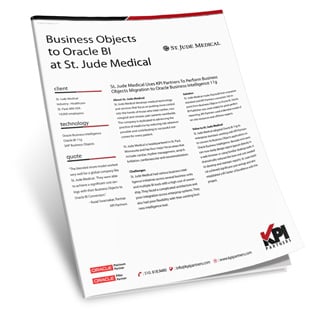 St. Jude Medical Uses KPI Partners To Perform Business Objects Migration to Oracle Business Intelligence 11g. St. Jude Medical Case Study.